(PRWEB) January 21, 2014
During the month of February, the cofounders of the nonprofit Civic Duty are celebrating the many successes of Sylvia Hernandez who is committed to making a difference in the lives of women and children in Riverside County. Her organization, Sylvia's Serenity Sober Living Homes, offers women struggling with addictions a safe place to recover and begin new lives.
---
(PRWEB) January 21, 2014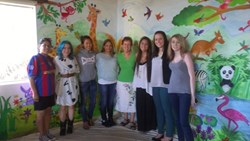 Sylvia is a beacon of hope to women bound by addiction, offering them a safe and clean home where they can kick their destructive habits and begin a new life.
Civic Duty cofounders, Julian Omidi and Dr. Michael Omidi, recognize and support the heroic efforts of Sylvia Hernandez of Sylvia's Serenity Sober Living Homes in Riverside, California. Using her own person story of survival from tragic addiction and violence, Hernandez offers hope and a caring, healthy environment to women and children who are actively pursuing a drug and alcohol free lifestyle. She is a true role model who is out there, on a daily basis changing lives for the better.
"Who is better to reach and help the needy and broken, than someone who has also been there and has successfully broken the cycle of despair? Sylvia is a beacon of hope to women bound by addiction, offering them a safe and clean home where they can kick their destructive habits and begin a new life," according to Julian Omidi, cofounder of Civic Duty. "Not only does she help struggling women down the road of recovery, Sylvia also reaches out to the community at large to tell her story and offer herself as living proof that change is possible. She has a powerful testimony and she uses it very effectively to motivate others."
Drug and alcohol addiction counselor Sylvia Hernandez founded Sylvia's Serenity Sober Living Homes after experiencing firsthand the physical and emotional desperation of living in the thrall of narcotics addiction. She was raised by drug-addicted parents and grew up to become a full-fledged drug addict herself; smoking meth with her mother at 14 years old. Hernandez underwent her own journey to recovery after having her children removed from her care by state services. Today, she channels her energy into providing homes for women who suffer from the same degenerative substance dependence.
Hernandez believes that we all have a responsibility to help break the cycle of crime, poverty and addiction in our own communities. In addition to helping individuals with their recovery process, she also speaks to college classes and government and private organizations working with substance abusers and those in distress.
Sylvia's Serenity Sober Living (http://www.sssoberlivinginc.com) has three locations throughout Riverside County, California. These homes are all fully furnished, have onsite mentoring and bible study programs and have internet access for online job searches. Transportation to treatment centers and Alcoholics Anonymous and Narcotics Anonymous meetings is provided. All homes are conveniently located near bus terminals, grocery stores and shopping centers, and are supervised by onsite house moms. Residents are expected to be active participants in their treatment, and must submit to random drug screenings and engage in mandatory self-help meetings.
Civic Duty (http://www.civicduty.org) is dedicated to mankind's search for meaning and promotes the values of its founders, philanthropists Julian Omidi and his brother Dr. Michael Omidi. The charity's mission is to inspire creative outreach, community service, and volunteerism through the stories of every-day people who are making an extraordinary difference in the world. Mahatma Gandhi once said, "Man becomes great exactly in the degree in which he works for the welfare of his fellow men." Civic Duty does not accept monetary support, but instead encourages direct donations to the charities featured on the organization's website. To get involved and help make a difference, send a message using the website's Contact Us function. More information about Civic Duty can be found on Facebook, Pinterest, Google+, and Twitter.
Media Relations
Civic Duty
855-330-5600
Source: Sylvia Hernandez Offers Hope and Help to Addicted & Homeless Women