(PRWEB) January 29, 2014
Cofounders of the nonprofit organization Civic Duty, brothers Julian Omidi and Dr. Michael Omidi, applaud Jonas Corona for his love and service on behalf of the homeless in and around Los Angeles. For more than four years, Jonas' charity Love in the Mirror has provided food, clothing, toiletry kits, and toys, backpacks filled with school supplies and other necessities to children in their time of need.
---
(PRWEB) January 29, 2014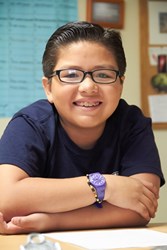 He has helped so many and also serves as a powerful role model for others, motivating them to volunteer their time and do what they can for others.
Jonas Corona, the 10-year-old founder of Love in the Mirror, is being honored by Civic Duty for his dedicated service to Los Angeles' homeless population. Civic Duty cofounders Dr. Michael Omidi and Julian Omidi are in awe of the young man who relentlessly displays a level of compassion and commitment way beyond his years. Love in the Mirror provides children in need with food, toiletry kits, toys, and school supplies.
"Love in the Mirror was one of the first charitable organizations my brother and I supported more than two years ago when we began to ramp up our philanthropic work. I'm still astounded by the commitment and leadership of Jonas Corona and the tremendous impact his efforts have made to those in need," says Julian Omidi, Civic Duty cofounder. "Jonas' compassion for others and desire to inspire others to the same kind of work, well it's simply incredible. He's truly special … one of a kind."
The outreach of Love in the Mirror increases every year. In four short years, more than 30,000 children and families have been served through the charity's sock drives, PB&J sandwich giveaways, and Toys for Tots campaigns. This year Jonas is helping his younger brother Maximus start Ocean Maximus Beach Clean-up which kicked off January 12, 2014 in Long Beach and is also beginning preparations to establish a sorely needed youth shelter in Long Beach.
"This world could certainly use a few more Jonas Coronas," says Civic Duty cofounder Dr. Michael Omidi. "He has helped so many and also serves as a powerful role model for others, motivating them to volunteer their time and do what they can for others. Jonas is 10-year-old dynamo! I can't wait to see what he does next."
In 2009, during one of his monthly visits to feed homeless people on Los Angeles' Skid Row, Jonas saw children lined up and waiting for food. Wanting to do more than hand out food once a month, Jonas and his mother Renee inquired about helping out at local shelters but strict minimum age requirements did not allow him to volunteer. Jonas was 6 years old. Not easily dissuaded, Jonas founded Love in the Mirror and his first organized drive yielded four truckloads of food, clothing and toys which he delivered to one of the shelters that had not allowed him to volunteer.
Love in the Mirror (http://www.loveinthemirror.org) helps homeless children obtain not only the food, clothing, and school supplies they need in everyday life, but also provides programs to empower children to succeed in future endeavors. Jonas Corona chose the name Love in the Mirror because he believes that "every kid should look in the mirror and love themselves."
Civic Duty (http://www.civicduty.org) is dedicated to mankind's search for meaning and promotes the values of its founders, philanthropists Julian Omidi and his brother Dr. Michael Omidi. The charity's mission is to inspire creative outreach, community service, and volunteerism through the stories of everyday people who are making an extraordinary difference in the world. Mahatma Gandhi once said, "Man becomes great exactly in the degree in which he works for the welfare of his fellow men." To get involved and help make a difference, send us a message using the website's Contact Us function. More information about Civic Duty can be found on Facebook, Pinterest, Google+, and Twitter.
Media Relations
Civic Duty
855-330-5600
Source: 10-Year-Old Already a Veteran At Helping LA's Homeless