(PRWEB) February 06, 2014
Julian Omidi and Dr. Michael Omidi, cofounders of Civic Duty, hail three New Yorkers who came to the aid of a woman during an attempted rape and captured her attacker. The men were recognized by the City of New York for their heroism.
---
(PRWEB) February 06, 2014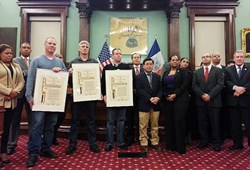 This is exactly the kind of story that restores your faith in the goodness of people!
The proclamation from the city of New York reads: New York City is proud to pay tribute to three men — Michael Popowich, Anthony Howley, and John Gilday — for courageously thwarting an attempted rape in Flushing, Queens on October 13th, 2013. The Omidi brothers and their charity Civic Duty want to also applaud the quick action of these men which very well could have saved a life. (http://www.timesledger.com/stories/2013/50/verizonheros_ft_2013_12_13_q.html)
"This is exactly the kind of story that restores your faith in the goodness of people," said the cofounder of Civic Duty, Julian Omidi. "Years ago I remember hearing women being advised to yell fire when under attack instead of yelling rape. The theory was that people are then more likely to respond and help. I thought that is incredibly sad when a woman in distress cannot look for and expect help from others. Well, these men confound that idea. It didn't matter that they were on the lunch hour. They didn't think about it being inconvenient or possibly dangerous. They had the compassion and bravery to act quickly and help a woman in need. That is commendable. And that is what our charity is all about!"
The three men, all technicians who work for Verizon, were on their lunch break when they witnessed an altercation between a man and woman in front of a corner café in New York's Flushing area. A man grabbed a woman, wrestling her to ground and the woman screamed. When the man put his hand up her skirt and began tugging on her pantyhose, the three heroes jumped into action. One ran to the rescue of the woman while the other two chased down the attacker and detained him until the police arrived and took him into custody. The assailant was later charged with rape, sexual abuse and unlawful imprisonment.
The men's good deeds prompted elected officials to conduct a tribute ceremony where all three received a framed proclamation from the city. The men were overwhelmed by the gesture and all the attention, saying we simply did the right thing; hopefully anyone else in the same situation would do the same.
Civic Duty applauds these heroes in New York and hopes to see more of our neighborhoods filled with neighbors that are willing to act for their fellow man. Civic Duty is currently requesting suggestions for organizations that they can support that will encourage more individuals to selflessly act to make positive changes in the lives of others.
Civic Duty (http://www.civicduty.org) is dedicated to mankind's search for meaning and promotes the values of its founders, philanthropists Julian Omidi and his brother Dr. Michael Omidi. The charity's mission is to inspire creative outreach, community service, and volunteerism through the stories of every-day people who are making an extraordinary difference in the world.
Civic Duty does not accept monetary support, but instead encourages direct donations to the charities featured on the organization's website. To get involved and help make a difference, send a message using the website's Contact Us function. More information about Civic Duty can be found on Facebook, Pinterest, Google+, and Twitter.
Media Relations
Civic Duty
855-330-5600
Source: Three Men Recognized as Heroes in NYC for Stopping Attempted Rape